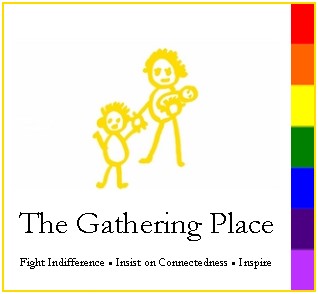 Dear Friends,
I have been overcome by emotions these past few days, as the horrors of Orlando continue to unfold. Moving from shock, to fear, to frustration, to anger, and -for now- profound sadness. In contrast to the early focus on the perpetrator and the mayhem of Sunday morning, it has been the slightest comfort to begin learning the names of the victims and to see their faces fill my news feed. They were such vibrant souls and, tragically, their families, their community, and the world is now deprived of their unique gifts, talents, and love. Connecting with that truth is palpable and profound.
I am bolstered by grieving with my own family and community. I am reminded that reaching out and building a community that thrives on differences is critical to hope. It might seem hard to believe in this moment, but we are not without hope because we are connected.
I am also reminded and resolved to live the vision of The Gathering Place. That means continuing to fight the indifference that comes from not knowing, not understanding, and not believing in our commonalities. It means insisting on connectedness, the inherent way that we affect each other with our words and our actions. And, it means inspiring each other to try, to reach out, and to be kind.
With our hearts and souls, The Gathering Place community joins with all of you who believe that love will win because love always wins.
Sincerely and in solidarity,
Leslie Foster
President
#OrlandoUnited
‬#LoveAlwaysWins