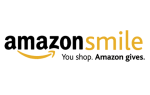 Are you an Amazon shopper? If so, use AmazonSmile and help The Gathering Place!
AmazonSmile is a simple and automatic way for you to support us every time you shop at Amazon--with no additional cost to you. Find all of the same great deals you normally find on Amazon--the only difference is that through AmazonSmile, Amazon will donate .5% of your purchase price to TGP when you pick us as your selected charity. Bookmark the page so that you continue to through smile.amazon.com--that way, Amazon will continue to donate to us throughout the year.
Get started by visiting smile.amazon.com. From there, use your standard Amazon login. Your shopping cart, wish list, wedding or baby registry, and other account settings will remain the same. Just make sure to select The Gathering Place: A Refuge for Rebuilding Lives when choosing your charity beneficiary.