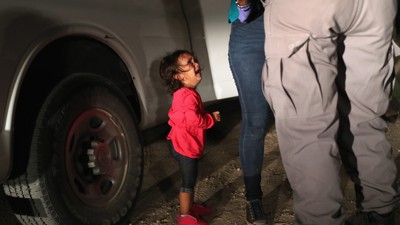 "Our deep concern is that thousands of children are currently being subjected to practices that were determined to be inhumane decades ago," says Leslie Foster, President of The Gathering Place, "That is not our community, that is not what we stand for."
Although the policy has been rescinded by Executive Order, there is still no plan in place to reunite separated children with their parents. In addition, it appears that children are lost in the system, throughout the country. Currently, the government appears to be seeking court permission to put children and families into unlicensed situations.
For Leslie Foster and the employees of The Gathering Place, the initial policy, and now the aftermath, has one clear effect: re-traumatizing thousands of children.
"Seeing children who are experiencing homelessness every day, we are well aware of the effects of trauma on their lives." "These families are coming from deeply traumatic situations in Guatemala and Honduras, often escaping death, and participating in a journey that is itself traumatizing, and then being re-traumatized by being separated from their families."
She continues, "Decades ago, child advocates and child welfare professionals determined that separating children from their parents had such devastating effects on families that it should only be done as the very last resort. This policy and practice are in place for almost every social service organization in the United States. In fact, now, we move further and take extra steps to ensure that children are not retraumatized. We promote visits and communication, we help families stay together, we ensure that there are maximum opportunities for stability, closeness, and affection. We've been practicing trauma-informed care at The Gathering Place for years now. It's standard operating procedure for any of us doing work with children."
The practice of separating families was not the policy for immigration detention before the adoption of the zero-tolerance policy implemented this past April. As the ACLU reports, ICE previously detained families as a unit in "family residential centers" while the family underwent civil processing. In addition, many of the families entering are doing so in hopes of claiming political asylum—which can only be done at a U.S. port of entry.
Even in the case of illegal entry into the United States, current policy states that the offense is a misdemeanor resulting in civil processing, not arrest, much the same way a police officer would address a jaywalker or red-light violation.
"The children who were separated, and are now housed around the country were essentially exploited as a deterrent and as bargaining tools. The fear the separated children must have now will affect them for the rest of their lives. We are doing permanent damage."
The long-term effect of trauma on children was thoroughly explored in the 1995-1997 CDC-Kaiser ACE Study. The study, in short, concluded that early childhood trauma was linked to chronic health problems, low life potential including chronic homelessness, and risky health behaviors.
The groundbreaking study revolutionized social service treatment, affecting even the way our own prison system handles separating families. Now, the country that trail-blazed a standard of trauma-informed care is enacting a system that is at odds with its own knowledge.
"This is not what our country stands for, and these are not our values," Foster said about the United States' actions. She continues, "We are creating long-term consequences for people and human service systems by re-traumatizing them in the worst way possible." It is a situation that data suggests creates both a public health and an economic crisis.
"At The Gathering Place, we have a commitment to building strong communities. We take seriously our obligation to care for each other, to respect each other, and to offer love and support, no matter who you are and where you come from. We have created, in the Denver area, a community that understands our common connections. Because we are such a strong community, and because anyone could be included in it, a violation against any person is a violation against all of us. Therefore, regardless of politics or party affiliation, we cannot condone what is happening on the US-Mexican border."