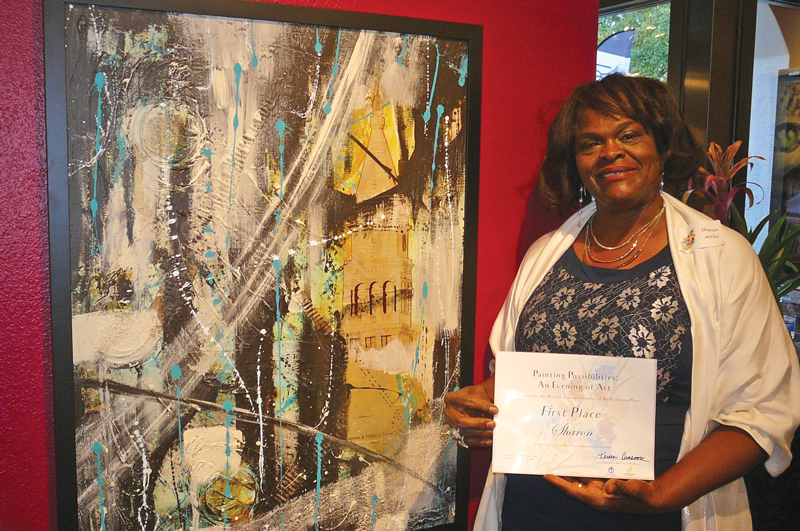 Gathering among other people with a shared experience can sometimes bring out the budding artist in the unlikeliest of circumstances.
"They build you up spiritually—just saying that you can do it," said Sevilla, whose recent burst of creativity hit canvass at the so-named Gathering Place, a Denver drop-in day center largely for women in poverty and their children. "They treat you like family, no matter where you are in your life."
Sevilla was one of five gatherers—or Gathering Place members—whose work adorned the walls of Fascination St. Fine Art in Cherry Creek North on Aug. 2 for "Painting Possibilities: An Evening of Art." The fundraiser for the center's Art Restart program saw three of the women earn cash prizes in what gallery owner Aaron LaPedis called a highly competitive process.
"It was not easy," he said of the exacting selection and judging. "If you think everybody got in, no, they didn't. They worked very hard."
LaPedis said some of the artists, from an original pool of about 25, were asked to redo and resubmit to meet standards he demands for his gallery walls, regardless of the situation.
"For me to see these amazing women, with everything against them, create beautiful art, I'm in awe," he said, noting some had experienced not just poverty, but homelessness and domestic abuse. "Art does transcend everything. It transcends unhappiness. It transcends bitterness. It transcends hurt in the soul."
Even so, why the preponderance of talented artists in a place of last hope? Leslie Foster, president of the Gathering Place, had to think for a moment before answering.
"We put a really strong emphasis on helping people figure out what they're good at, so the world is probably full of talented artists who don't get a chance," she said.
Artist Judy Anderson offered public critiques for each artist.
"There's an original story behind all of them," she said of Sharon's work, which took the top prize of $250. "It's not reflecting something she saw some other place. It's [her] story, and what it does is create the opportunity for the audience or the viewer to read into it what happens."
Half of all sales went to the artist. The other half went to Art Restart.
(This story was originally published in The Villager)