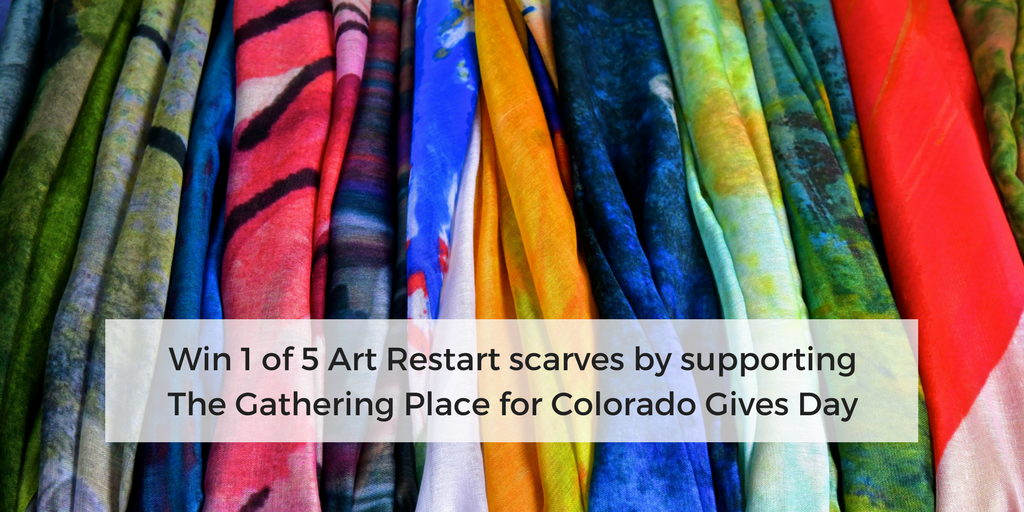 Colorado Gives Day is December 5, and to help us reach our fundraising goals, we're giving away five Art Restart scarves to five lucky donors! Art Restart is a social enterprise of The Gathering Place that provides opportunities for women experiencing poverty to transform their lives through art. Artists work toward financial independence through proceeds from sales of their artwork. In order to be entered into the drawing for a scarf, you must:
1. Schedule your Colorado Gives Day gift online before December 5, 2017. Gifts can be any size.
2. Post on at least one social media platform (Twitter, Facebook, Instagram, or LinkedIn) that you gave early to The Gathering Place. *You must tag The Gathering Place and use the official Colorado Gives Day hashtag #COGivesDay in order to qualify.
Winners will be contacted the week of December 5 to claim your prize. Good luck and thank you for supporting The Gathering Place! If you have any questions about the giveaway, please contact Digital Fundraising Manager Jenny Scrivens at jenny@tgpdenver.org.