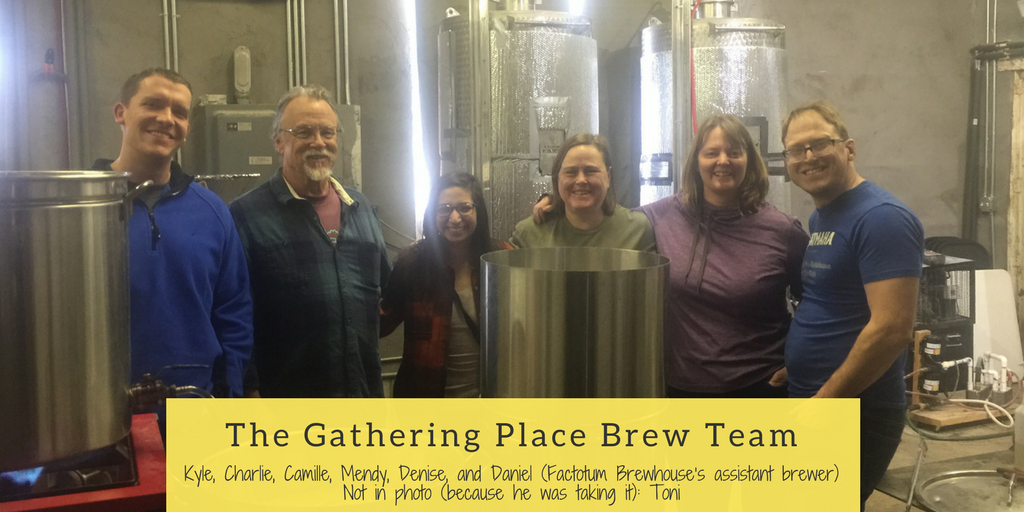 We are excited to announce that The Gathering Place is competing in a charity brew-off at Factotum Brewhouse! Called, Brewer's Madness, this March Madness style tournament has 16 different nonprofits going head-to-head to win votes for the different beers they brewed with Factotum's assistant brewer, Daniel. A couple of weeks ago, Daniel helped a small group of us (photo above) brew a New England India Pale Ale with Whole Cone Hops. Whether or not you like IPAs (or beer for that matter), we hope that you will come, have fun, and vote for our beer. For every vote we get, Factotum will donate a dollar to TGP and if we get more votes than the other nonprofit, we will advance to the next round. Hopefully, we will advance all the way to the championship and win it all!
In the first round, we are up against Denver Food Rescue on Sunday, March 4th at 2:00-4:30pm. Factotum Brewhouse is at 3845 Lipan St, Denver, Colorado 80211. If you are on Facebook, you can use the March 4th event page (http://bit.ly/VoteTGPMarch4) to let everyone know you are going. And please, invite everyone you know.
Thanks, Factotum, for supporting The Gathering Place!!!