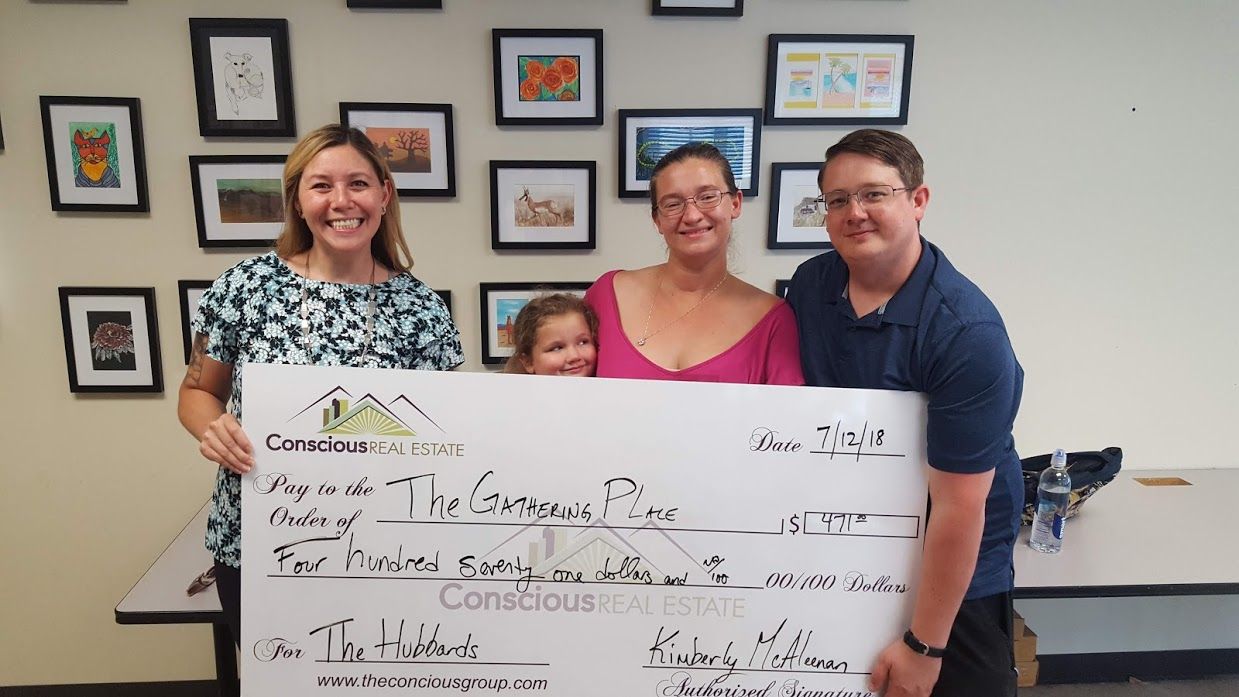 Just four years ago, Teri was pregnant and alone. She came to The Gathering Place is search of support, basic needs, and resources.
"It was such a low point in my life," she said, "I had no idea what to do."
But she was able to find stability in her life. Fast-forward four years, and she was ready to buy her first home with her fiancé, Kyle, and four-year old daughter, Cassie. When she found Kimberly from Conscious Real Estate, she knew she had found a way to give back.
Conscious Real Estate participates in a program where realtors donate a percentage of their commission to the charity of their client's choosing. When Teri learned about this program, she immediately knew where she wanted her donation to go.
"I didn't even hesitate," she said. "I immediately said 'The Gathering Place.'"
On Thursday, July 12, Teri returned to the building and to the place that helped her all those years ago. But this time, it was to give back to the services that helped her. Overwhelmed with emotion, she remembered what it was like, and reflected on where she is now.
"There were many days where if it weren't for this place, I wouldn't have even had a meal to eat," she recalled as we walked around the rooftop garden, where members come to find peace of mind and where children can play.
Teri is a seamstress and has started her own business. She has just closed on her first home with her family. And she is thrilled to be able to help other women do the same.
The Gathering Place calls itself a refuge for rebuilding lives, and stories like Teri's remind us that support, unconditional acceptance, and a sense of community can have an impact for many years after that first visit. Tears fell down Teri's face as she looked around the family area, where children can play and where mothers can rest knowing that their child is safe. She wiped her tears away. "It's hard to believe how far I've come," she said, "and I wouldn't be where I am now had you guys not helped me. I can't thank you enough."
If you are interested in learning more about Conscious Real Estate, go to theconsciousgroup.com.
If you would like to support our mission of helping women, children, and transgender individuals experiencing poverty and homelessness, click "donate" on our page.