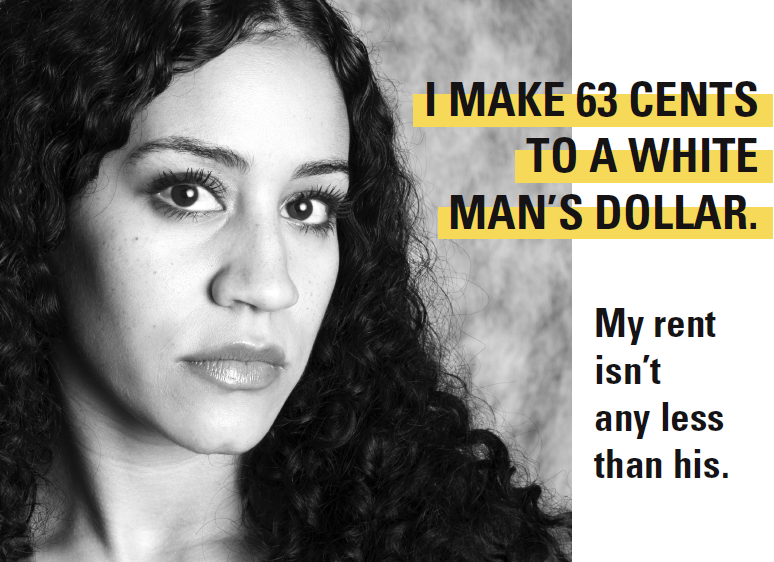 The wage gap is real. It is systemic. And it is getting worse.
Despite claims otherwise, substantial research reveals that after controlling for race, region, unionization status, education, work experience, occupation, and industry 38 percent of the pay gap remains "unexplained" [1]. Our 30 years of experience and expertise suggests that discrimination is the "unexplained" factor.
Our observation is supported by numerous research studies which show that women are less likely to be hired for high-wage jobs or be offered lower salaries; one such study revealed that employers, when presented identical resumes but different gendered names (John v. Jennifer), employers offered "John" a higher salary and judged him to be significantly more competent and hireable [1].
Furthermore, "women's work" such as certified nursing assistants (CNAs) and childcare work followed this pattern. A study that examined half a century's worth of data that controlled for experience, skills, education, race, and region found that when women moved into a field in large numbers, wages declined [1].
For Melany Deem, jobs and education manager at The Gathering Place, there is another factor at play that sustains gender wage inequality. "Many women had to take a gap in their employment to take care of children or sick family members, and often they leave that gap unexplained when applying to new jobs," she explains. "There are skills that mothers or full-time caretakers use that aren't necessarily recognized by the workforce, even though the value of those skills is huge."
Data suggests that this is even more significant than previously realized. Low-wage workers—those most likely to already experience poverty—experience a wage penalty that grows approximately 7% for every child. Another study found that when comparing equally qualified women candidates, mothers were offered a significantly lower starting salary and perceived as less competent than the woman without children [1].
For women attempting to bring their families out of poverty through education—as studies prove that higher levels of education mean a family is less likely to experience poverty—affordable childcare is the biggest barrier to educational attainment alongside transportation.
"Women ask me all the time when I tell them about a potential job opportunity, 'Is it on the bus line?'" Melany said. Many women also have to factor childcare costs—costs that in Colorado, average $18-20 per hour. Meanwhile, the state's minimum wage is $10.20.  
"Women want childcare that is safe, where their child is getting quality care and education and where they have hours that work with their work schedule. It is what every mother wants, but for the women we serve, high costs mean they don't have the same options."
64 percent of Colorado children under the age of six live in a home where all primary caregivers work, but Colorado's Child Care Assistance Program (CCCAP), which provides free childcare through certain providers, only serves 13 percent of eligible families [2].
All of these factors, when compounded, paint a grim picture for women either at risk of or currently experiencing poverty or homelessness.
For the women we serve who are seeking to further their education or utilize our job readiness training, onsite childcare removes one major barrier. "Our Family Program area is on the same floor as our education classroom," Melany explains, "Which is great especially for mothers of young infants who may need to go back to the family area for whatever reason." She continues, "Our classes occur between 8:30 am and noon so that during the school year, moms have time to drop kids off and pick them up from school."
As for moms and caregivers returning to the workforce, Melany emphasizes that the gap in employment can—and should—be explained. "If you had to coordinate appointments or visits for your child or sick family member, that's calendar administration. If you made financial decisions for your family, that's budgeting experience." Melany works with each member to help her articulate these skills.
"Our biggest challenge," Melany explains, "Is helping older women who left the workforce for a variety of reasons, and are trying to return." Data further suggest that the wage gap increases for women over 45. But as Melany suggests, this is an issue not often addressed.
For The Gathering Place, there is no way to definitively overcome wage inequality. While we can offer solutions and remove some of the most persistent barriers, The Gathering Place has also learned that being creative is the best way to solve the problem until legislation changes this disparity.  
"We partner with unions and can connect people to apprenticeships, where the wage gap is significantly smaller if it exists at all," Melany explains. "We also offer training and access to non-traditional jobs, where again that wage gap can be circumvented. For women experiencing homelessness, we work with temporary and temp-to-perm agencies so these women can build up a work history and an income until they find full-time employment."
But otherwise, The Gathering Place's options are to mitigate the compounded issues that derive from pay inequality while advocating for the women most affected—the women who are helped by our services every day. 
---
To support our service and advocacy, go here or sign up to learn more about our services and outreach.
---
SOURCES:
National Women's Law Center, "The Wage Gap: The Who, How, Why and What to Do", 2017.
Bell Policy Center, "Guide to Economic Mobility in Colorado", 2018.