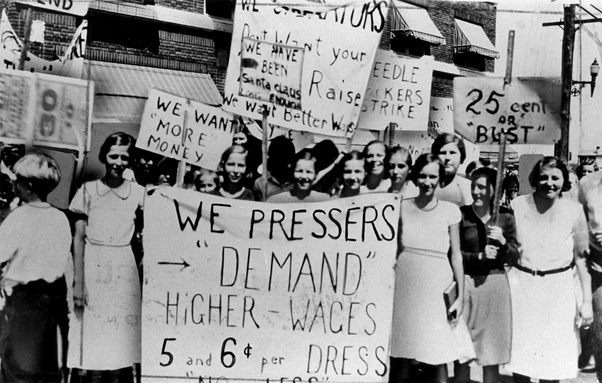 To commemorate Women's History Month, we will be examining articles that allow us to reflect on the past, present, and future of women. We encourage you to read our summaries as well as the articles themselves and share this with your friends. If you want to learn more about the history of Women's History Month, start here. If you have feedback or suggestions for future articles, contact Kate Mazzotta, Communications Manager, at kate@tgpdenver.org.
March 8 celebrates International Women's Day, officially established by the United Nations in 1975. That became the impetus for the 1978 movement for National Women's Week, and later National Women's Month. But how did it all start?
In short: working class women.
In February 1908, thousands of women who were garment workers went on strike to protest against low wages and sexual harassment. Later, women's and worker's rights activists established a National Women's Day on February 28.
This inspired German campaigner Clara Zetkin to spearhead a campaign to turn that day into an international movement. In 1910, at the International Conference of Working Women, she introduced the idea of a Women's Day to advocate for universal suffrage.
In 1917, Russia held an International Women's Day demonstration on February 23. Russia used a different calendar, and the equivalent was March 8. The widespread protests in Russia, including those driven by women, sparked the abdication of Tsar Nicholas and the end of the Romanov rule. More importantly for women, these protests resulted in suffrage for Russian women. Russia became the first major power to enact suffrage legislation for women.
So when the United Nations decided to officially proclaim International Women's Day, they chose to do so on March 8, in recognition those who worked to give women the right to vote.  
You can read a more detailed history of International Women's Day here and here.
 We're choosing to celebrate Women's History Month and International Women's Day because, in addition to raising awareness around women's issues, The Gathering Place helps women every day. We are metropolitan Denver's only daytime shelter for women, children, and transgender individuals experiencing poverty and homelessness. While we refer to those we serve as members, all of our programs and services are free, and they always will be.
Now, as part of the celebration for International Women's Day, our credit card vendor is waiving credit card fees. Your support goes further-- give now! Be sure to share this article with your friends so they can join the celebration.