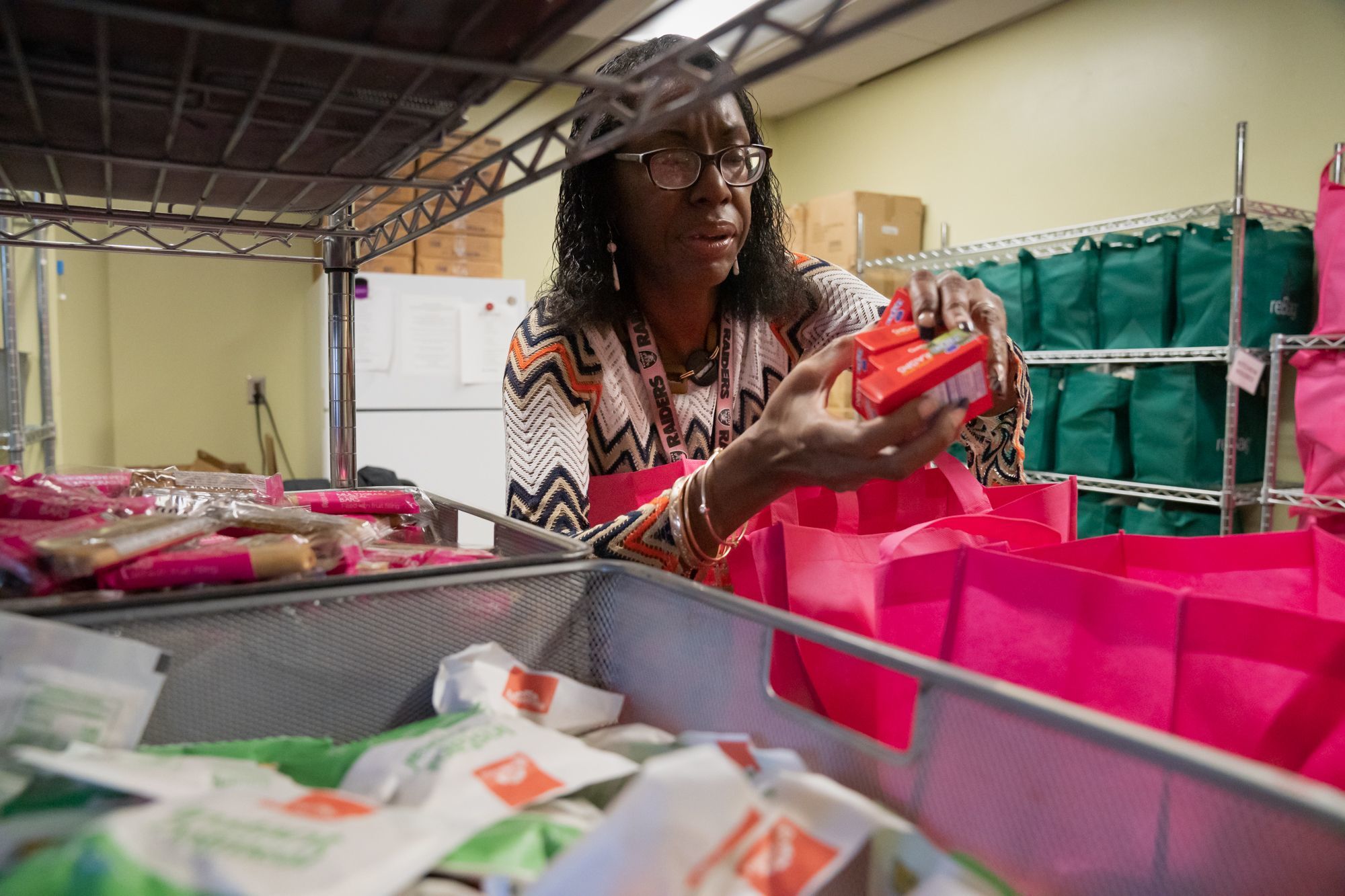 When you get off of the elevator at The Gathering Place, there's a photo of Sonja and her daughter, a small child at the time the picture was taken. Sonja first started coming to TGP in 2005 when she was unemployed.
"I used to have to do my time sheets and so when I found out the TGP had a daycare, I started to bring my daughter there so that I could do my paperwork."
The service was a great help, and even more important to Sonja, "the staff just fell in love with my daughter right off the bat."
Her daughter is 17 now and Sonja is still coming, although now in the role of volunteer. These days, she leads Stitch Circle, a sewing group, and volunteers in the food pantry.
"I've always liked coming to TGP because they're very helpful. They really are. They give people the chance to wash up, do laundry, meet basic needs. They also help people who want to go to school get an education or find employment. They even have arts and crafts," explains Sonja.
About eight years ago, TGP helped Sonja to find housing. "I've kept my house ever since," she says proudly. "It's a two bedroom, but it's affordable, and I have a front yard and a backyard. I've even got a dog, Zoe," she smiles. "They were going to put him down and I'm not even a dog lover, but I said I'll take him. My daughter loves him." 
For Sonja, the best part of being involved with TGP over the years is meeting so many people along the way and seeing how far people go once TGP helps them to get on their feet. "I know how much they helped me, and so it's really exciting to see other people get help and change their lives for the better, too," she smiles. 
As a client turned volunteer, Sonja explains the one rule that the TGP has for clients to receive its services. "All that people must do when they come here is show respect. That's it, and they get access to all these services…" That's important, Sonja says, because TGP is a safe haven for people. "That's why they have rules and regulations." 
They also have an effective incentive program. "So, if you do a chore, you might get something that you need for free." 
Recently, they helped Sonja get a new pair of glasses. 
"It's such a good community. We all get along. We just do."