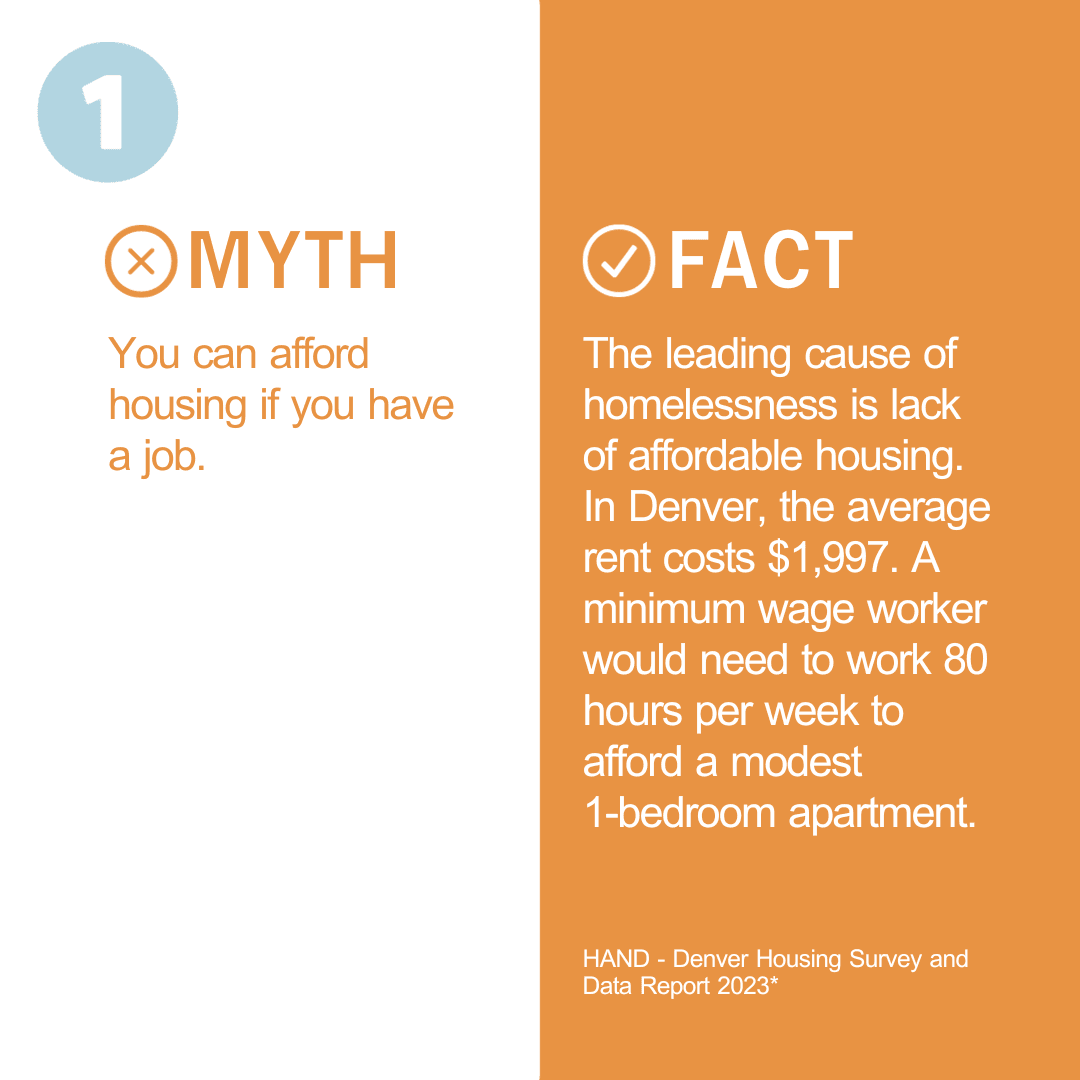 Hey Community!
A few months back, we had a post on social media that got some serious traction – it was all about busting the myths around homelessness. We thought it was time to revisit this conversation because it's complicated, and there's a lot of misunderstanding. At TGP, our core mission is supporting people navigating poverty and helping them find stability. We've got some additional facts to add to these myths, and we'd love your help spreading the word and setting the record straight.
Myth #1: You can afford housing if you have a job.
The truth is the leading cause of homelessness is the lack of affordable housing. In Denver, the average rent costs a whopping $1,997. To afford a 1-bedroom apartment here, equal to one-third of an employee's income, a minimum wage worker would need to put in a staggering 80 hours a week – that's just not feasible. Wages often don't match the cost of living, so we need to focus on housing first and long-term solutions to tackle the root causes of homelessness.
Myth #2: Homelessness is a choice.
Reality check: homelessness is rarely a choice. It's usually the result of a complex mix of factors like job loss, domestic violence, mental health challenges, and a lack of affordable housing options. Homeless individuals and families often face interconnected barriers beyond their control. In Denver, for instance, almost 95% of people experiencing homelessness from July 2021 to 2022 said they didn't choose to be homeless, according to HMIS – Denver's Homeless Management Information System.
Myth #3: Unhoused individuals don't have jobs.
People experiencing homelessness often encounter significant obstacles to finding stable employment. It's difficult to overcome these challenges without the right resources, support systems, and opportunities. But here's an incredible fact: 25% of TGP members reported having jobs, and 36% had some college education, according to The Gathering Place Demographic Report for 2022. Even Megan Hustings, Interim Executive Director of the National Coalition for the Homeless, says that between 40 and 60 percent of the homeless population moves in and out of full-time and part-time work.
Myth #4: "Bad choices" led to their homelessness.
Sure, we all make mistakes, but homelessness often results from circumstances beyond a person's control. It can stem from things like sudden illness, accidents, job loss, or crushing debt, as NYU Social Work professor Deborah K. Padgett pointed out. At TGP, 26% of our members reported that domestic violence was the immediate cause of their homelessness.
Myth #5: Most people who are experiencing homelessness misuse drugs or alcohol.
This one's a big misconception. Addiction often arises as a result of the harsh realities of homelessness, not the other way around. Research from the American Addiction Center shows that only one-third of the homeless population reported having alcohol and or other drug use problems. It's dangerous to assume that the majority of unhoused individuals are in that position due to substance misuse.
Myth #6: There are enough shelter beds to give every unhoused person a safe place to sleep in Denver.
We wish this were true, but sadly, it's not. The Denver Point in Time Study found that for every three people experiencing homelessness, there's only one bed available nightly, spread across fewer than 40 shelters in the Denver area. While shelters provide a short-term solution, we really need more affordable housing options for our unhoused neighbors.
At The Gathering Place, we're on a mission to dispel these myths and foster understanding and empathy within our community. We're all about providing a safe space, resources, and programs that empower individuals and families to rebuild their lives with dignity and self-sufficiency.
We invite you to join us in breaking down these misconceptions surrounding homelessness. Education and awareness are incredibly powerful tools for creating a society that values compassion and seeks practical solutions. Together, we can make a real difference. Thanks for your unwavering support, which allows us to continue our vital work. Let's unite and build a more inclusive and compassionate Denver where everyone has a place to call home.
With heartfelt gratitude,
The Gathering Place Team