Support The Gathering Place on December 5
Your donation will go a long way. As we move into our fourth decade, The Gathering Place continues to respond and adapt to the needs of women, children, and the transgender community who are experiencing poverty and homelessness. We are a place that helps transform lives, and a space many consider their only home. With your help during this coming season, we can turn loneliness and despair into a loving community of hope. 
Colorado Gives Day is December 5, and you can show your support for The Gathering Place today by scheduling your online donation. This will ensure that your donation is included in the campaign and eligible for the $1 Million Incentive Fund.
Win One of Five Art Restart Scarves!
To help us reach our fundraising goals, we're giving away five Art Restart scarves to five lucky donors! Art Restart is a social enterprise of The Gathering Place and provides opportunities for women experiencing poverty to transform their lives through art. Artists work toward financial independence through proceeds from sales of their artwork. In order to be entered into the drawing for a scarf, you must:
Schedule your Colorado Gives Day gift online before December 5, 2017. Gifts can be any size. 
Winners will be contacted the week of December 5 to claim your prize. Good luck and thank you for supporting The Gathering Place! If you have any questions about the giveaway, please contact Digital Fundraising Manager Jenny Scrivens at jenny@tgpdenver.org. 
$1 Million Incentive Fund
Colorado Gives Day features a $1 Million Incentive Fund to boost every donation made during the campaign. Participating nonprofits will receive a portion of this fund based on the total amount they raise. For example, if The Gathering Place receives 10% of the total donations made on Colorado Gives Day, we will also receive 10% of the $1 Million Incentive Fund. Schedule your donation now or make a gift on December 5 to ensure that your dollars go further!
About The Gathering Place
"The Gathering Place is the kind of place that will restore your hope in people." — Leslie Foster, President & CEO
About Colorado Gives Day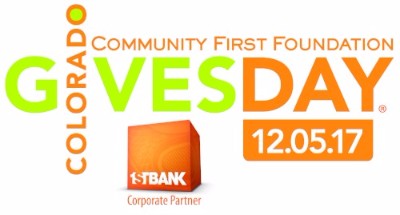 Colorado Gives Day is a statewide movement to increase online giving. This year, Community First Foundation and FirstBank are presenting Colorado Gives Day on December 5, 2017. Donations are accepted at ColoradoGives.org, which features more than 2,000 nonprofits. Colorado Gives Day is one the most successful events of its kind in the nation. Since its inception in 2010, the event has raised more than $145 million for Colorado nonprofits.