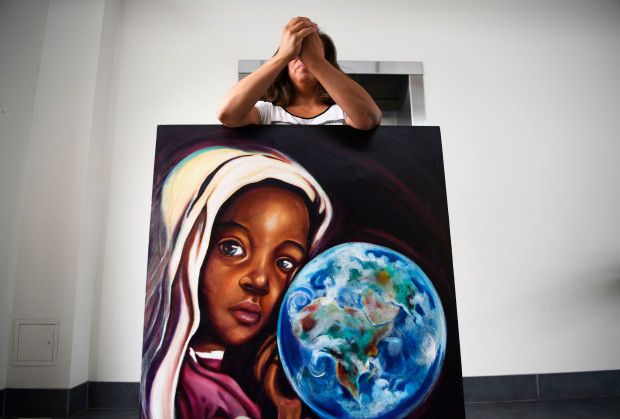 Darlina was a down-on-her-luck artist who needed some help paying for her daughter's glasses 20 years ago when she discovered The Gathering Place, Denver's drop-in center for women, their children and transgender people.
What she found was not just a refuge from poverty, but also an artists center — a place where she could paint and make a little money for her craft. She did this through the center's Card Project, which offers members the opportunity to design greeting cards to be sold at The Gathering Place and around town. Darlina, who declined to give her last name, has made hundreds of original cards for The Gathering Place over the years.
Now, her art will find a larger stage at the center's first art exhibition in Cherry Creek North in August. The gallery Fascination St. Fine Art will transform Aug. 2 into a space for Darlina and other emerging female artists, all of whom have pursued their artistry despite homelessness, poverty and other challenges.
The women competed with 100 members of The Gathering Place for spots in the show, where they will be displaying and selling their work. Darlina's painting for the show is a close-up of a snow leopard with piercing, blue-green eyes. The cat gazes at the viewer unflinchingly from the oil canvas, looking out from a sea of gray fur.
The event, which runs from 6 to 9 p.m., will celebrate the budding artists and also raise money for The Gathering Place, with a suggested donation of $20 at the door. The art will also be on display Aug. 3.
"There have been times where I didn't have anything to eat, so I came here. When a person is homeless, it's easy to lose a lot of hope. … The other women who come here, we developed a sisterhood," Darlina said. "So this is my way of giving back and helping The Gathering Place grow."
The night will also feature a competition — the top three artists will take home a cash prize for their paintings. First place will win $250, second $150 and third $100. A small committee, including Fascination St. Fine Art owner Aaron Lapedis, will determine the winners.
"We wanted to open the doors for these ladies," Lapedis said. "My hope is that they continue their craft."
Lapedis has invited members of Denver's art community and art buyers to the opening. The artists will get their hair and makeup done before the event, and will receive new outfits provided by Dress for Success Denver, which offers professional clothing to women in need.
"Where you live or how much you have has no effect on the talent you have," said Teresa Densmore, director of Art Restart, a social enterprise of The Gathering Place that prints and sells certain cards en masse. "We're trying to erase stigma."
The idea for an art show grew out of the center's long-running Card Project, in which women make 75 percent of the proceeds for each card sold and can make up to 45 cards each a week. The program has since expanded to include Art Restart, which sells prints of the original greeting cards in packages of 50 or more. The artist receives a 5 percent royalty on each sale, a cut that Densmore is hoping to increase to 25 percent.
Sevilla Stinnett, another artist whose work will be featured at the gallery, had never sold her visual art before joining the Card Project. She usually stops by The Gathering Place every Tuesday, Thursday and Friday to work on cards.
Stinnett, who has lived in Denver since 1972, discovered The Gathering Place in 2012 when domestic abuse led to homelessness. SafeHouse Denver, a center for women experiencing domestic violence, helped Stinnett find an apartment and also directed her to The Gathering Place, where she soon joined the Card Project. She has since tried to make the 45 weekly maximum number of cards.
Stinnett will be displaying two paintings — oil-and-acrylic landscapes — at the gallery opening. Titled "Two Birds in Paradise" and "Buena Vista", the pieces display a mix of shadows and light, nature and sky. They'll be the first paintings Stinnett has displayed at a gallery.
"They gave us an opportunity that we wouldn't have normally because of our economic disadvantages," Stinnett said. "Art gives me a creative outlet, it gives me peace of mind, it allows me to focus on other aspects of my life."
(This story was originally published in the Denver Post)