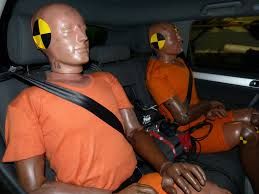 To commemorate Women's History Month, we will be examining articles that allow us to reflect on the past, present, and future of women. We encourage you to read our summaries as well as the articles themselves and share this with your friends. If you want to learn more about the history of Women's History Month, start here. If you have feedback or suggestions for future articles, contact Kate Mazzotta, Communications Manager, at kate@tgpdenver.org.
Public bathrooms. Bricks. Smart watches. Office temperatures. Cars. Coal mines. Body armor. What do all these objects have in common?
As this article from The Guardian points out, they were all designed for men. The article continues: "These silences, these gaps, have consequences. They impact on women's lives, every day. The impact can be relatively minor – struggling to reach a top shelf set at a male height norm, for example. Irritating, certainly. But not life-threatening. Not like crashing in a car whose safety tests don't account for women's measurements. Not like dying from a stab wound because your police body armour doesn't fit you properly. For these women, the consequences of living in a world built around male data can be deadly."
Read the full story here.
We're choosing to celebrate Women's History Month and International Women's Day because, in addition to raising awareness around women's issues, The Gathering Place helps women every day. We are metropolitan Denver's only daytime shelter for women, children, and transgender individuals experiencing poverty and homelessness. While we refer to those we serve as members, all of our programs and services are free, and they always will be.
Celebrate Women's History Month by supporting the women we serve! Give now. And be sure to share this article with your friends so they can join the celebration.