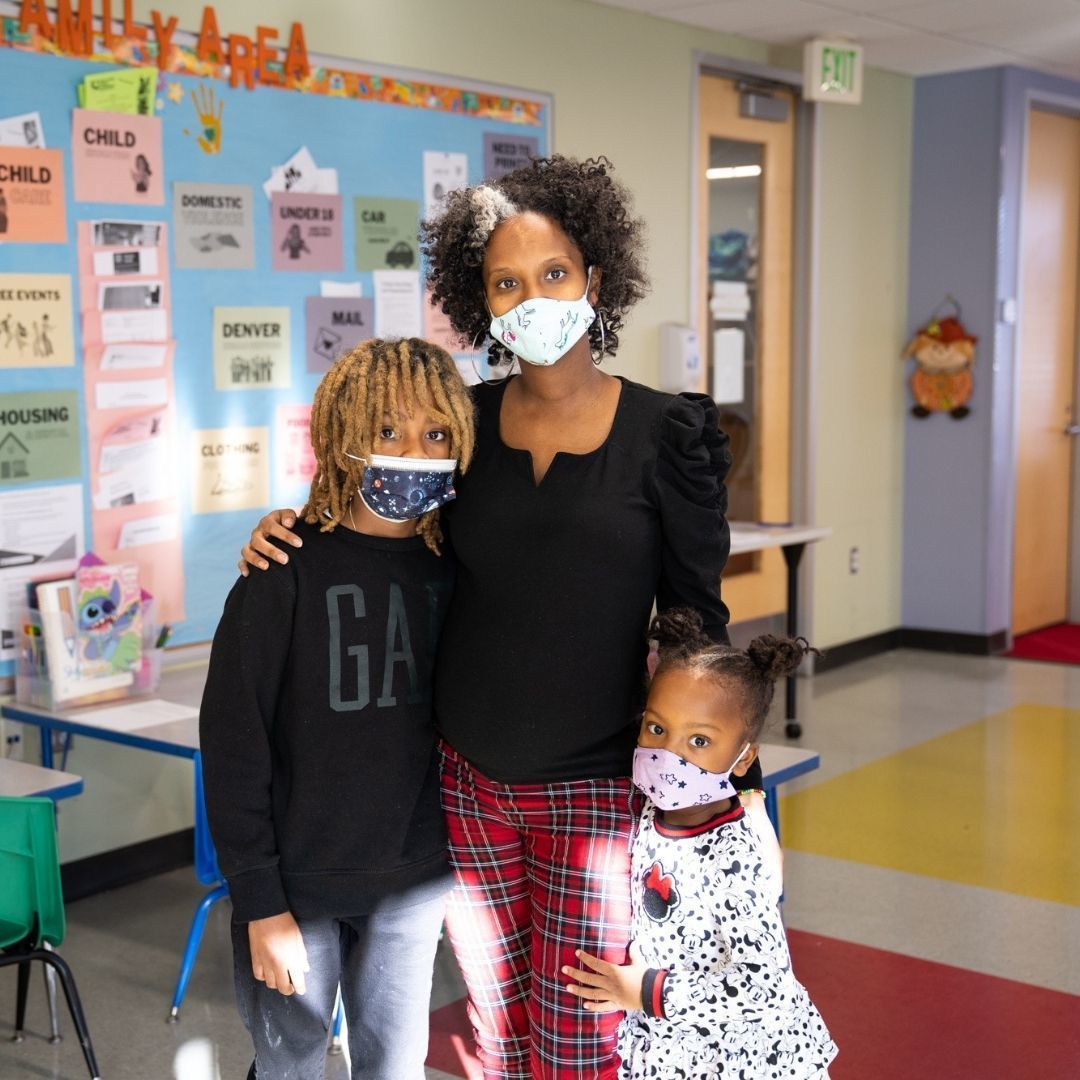 Emma was pregnant with her third child when we met her in November of 2021. Emma and her two children had just driven from Maryland to Colorado to start their new life. She had already secured a full-time job, but her family was struggling to find affordable housing. "We had nowhere to stay, so we came to TGP. We got a motel voucher and started coming every day so the kids could play and I could see the case managers and fill out paperwork." 
Supporters like you enabled TGP to step in and help address her immediate need for housing. Emma and her children became regulars at TGP, accessing the Family Program, case management, gas cards, meals and more on a regular basis. In addition to the abundant toys and art supplies available in the family area, the food is one of the kids' favorite parts.
"We didn't have a kitchen at the motel, so we would come to eat breakfast and lunch. I always tried to get dinner somewhere else, but the kids enjoyed coming for lunch, especially for the hot meals since we couldn't get any of those at the motel. That helped a lot."
With a solid base of support, Emma was able to spend more time working with case managers on securing long-term, affordable housing and establishing herself and the kids in their new hometown. 
After 3 months, Emma received the news from her case managers that she had been approved for affordable housing and a unit was available. Emma and her family were excited to move into an apartment of their own – just in time to welcome her third child into their family. In addition to resources helping her along the way, she found a community at TGP—a safe-space for her children to play while she planned for their future.
Today, Emma is a beaming mother of three. Her children—Carter, age 10, Amaia, age 4, and Amethyst, 3 months—have a place to call home and a community to share it with. 
 "The kids have fun playing here. They get to play with other kids, they get to interact with people. They feel at home, you know? That's the best thing, just seeing them always having fun with different people and meeting other kids."
Everything has changed for Emma and her family. They have made Denver their home and have found safety and community right here at TGP. And because of that—because of you—Emma has what all moms want most: healthy children, a safe home and time to spend with them. 
This Mother's Day, give the gift of health, home, purpose and community to another mother like Emma.